Black and White photography remains a viable option for creative expression at a time when technology has provided us with so many rich and colorful alternatives. Why do many fine artists return to the origins of photography as a means of self-expression? This session will explore the aesthetics of black and white photography and will also attempt to answer the question of why we still consider black and white imagery a powerful language for creating images that reflect who we are as creative individuals and for revealing the world around us. We will view images by many well-known photographers whose work is solidly based in black and white imagery; including social documentary, street photography and portraiture.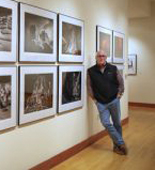 About Andy Howard
Andrew K. Howard, a native of Cape Cod, has been making photographs for over forty-seven years. Andy recently retired as a professor of art at Wheaton College, in Norton, Massachusetts. He has also worked commercially from his Boston-based studio photographing for clients, which include IBM, Tenneco, Cape Dory Yachts, Sheraton, Holiday Inn and Holiday Inn-Crowne Plaza and many others.

The recent focus of his work is the landscape of the American West. He has travelled to and photographed numerous locations in Arizona, California, Utah and New Mexico. He has also photographed extensively in New England and Ireland. He has recently returned from photographing the receding glaciers in Alaska and plans to travel to the Paria Canyon in Southern Utah this coming spring to continue his American West portfolio.
Visit www.andrewkhoward.com